Care to learn more about our many solenoid valve solutions?
Contact our sales and support team today to discover your perfect solenoid valve solution!
CALL US

1 (877) 683-2200

EMAIL US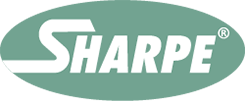 Sharpe has evolved into a leading edge manufacturer and producer of highly engineered valves. Sharpe has successfully built a reputation for manufacturing solenoids that are considered by many to be industry-leading when it comes to both design and value. All Sharpe solenoids are extensively tested to ensure complete conformance to your applicable standards before shipment.
With over 30 years of manufacturing experience in the chemical processing, pulp & paper, petroleum, power generation and food processing, Sharpe has your perfect valve solution.
SOL Series Solenoid
Product Description:
Sharpe manufactures solenoids which are durable, versatile, cost-effective, perform well after many cycles and are perfect for extensive commercial and industrial use. Sharpe's solenoids are suitable for a full range of water, gas, steam, petrochemical and general use/utility services and applications.
Features Include:
• Pressure rating of 35-120 PSI
• Robust, Reliable and Compact design provides bubble-tight shut-off for millions of cycles
• High Flow / Fast Response, Actual figures: .8 Cv, 20 ms ON, 40 ms OFF
• Exhaust feedback – provides spring chamber
• Operating temperature range of -4°F to +140°F (-20°C to +60°C)
• Corrosion resistant construction with standard manual override
• 5/2 and 3/2 function selectable via 180° rotation of single adapter plates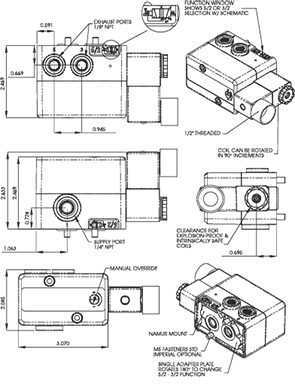 Standards:
• Standard NEMA 4 coils are certified to CSA, UL and CE
• Explosion-Proof series coils are CSA certified and FM approved for Hazardous locations
• Intrinsically Safe series coils are CSA and CE certified, FM and PTB approved for Hazardous locations
• ATEX series coils are CE certified and approved by PTB
• Direct mounting conforms to NAMUR VDI/VDE 3845 standards
For almost 15 years, ValvSource Equipment has continually committed itself to offer the best solenoids products to meet a wide range of applications and requirements.
As an industry leader, ValvSource Equipment has your perfect solenoids solution. Our success in the valves industry is attributed to our customer-centric team of sales personnel, engineers, and trained staff that are collectively committed to providing quality products at a price you would come to expect.
To find your perfect valve solution, please call ValvSource Equipment today or email us at [email protected].