Care to learn more about our many check valve solutions?
Contact our sales and support team today to discover your perfect check valve solution!
CALL US

1 (877) 683-2200

EMAIL US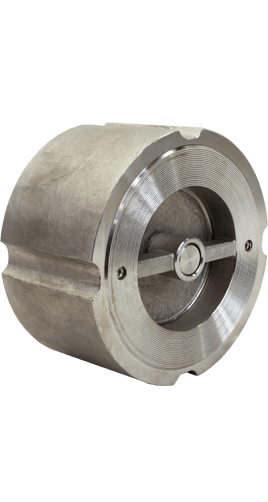 SSI products are engineered and manufactured to provide high-quality valves at competitive prices. SSI has successfully developed a reputation for manufacturing industry leading stainless steel silent check valves.
As well as stainless steel silent check valves, SSI also manufactures basket strainers, butterfly valves, triple duty valves, suction diffusers, y-strainers, foot valves utilizing state-of-the-art, computer controlled, automated machining equipment.
Stainless Steel Silent Check Valve
Product Description:
SSI manufactures stainless steel silent check valves that are long-lasting, functional, cost-effective, and are well suited for commercial and industrial use. SSI stainless steel silent check valves are suitable for a full range of steam, liquid, gas & oil, power, pulp & paper, process equipment, chemical, metal & mining and water & waste applications. Single disc stainless steel center guided check valves with wafer body style designed to ASME B16.34 and API 594. The check valves feature a stainless steel disc and seat, and are center guided from both ends.
Features Include:
• Pressure rated to 285 PSIG
• Available in sizes of 2″ to 12″
• Designed to reduce surge and water hammer
• Wafer body style fits between FF or RF flanges
• Center guided at both ends to prevent binding
• Temperatures to 400º F
• Silent, non-slam closure
• Compact face to face length for space saving
• Dual rating 150# and 300# in sizes 2″ through 6″
End Connection:
• Wafer

Our SSI Stainless Steel Silent Check Valves have the following Build of Materials and Product Specifications:
| No. | Part Name | Stainless Steel |
| --- | --- | --- |
| 1. | Body | A351-CF8M |
| 2. | Discs | A351-CF8M |
| 3. | Seat | A351-CF8M |
| 4. | Spring | 316 SS |
| 5. | O-Ring | Viton |
All rights reserved. All valves information and its contents hereof are proprietary. Any unauthorized reproduction or disclosure, in whole or in part, is strictly prohibited. All valves materials, images, and data sheets in this catalogue/brochure is for general information and shall not be used for specific performance data and material selection without first consulting with ValvSource Equipment Ltd. ValvSource Equipment Ltd.reserves the right to change the enclosed valves information without notice. ValvSource Equipment Ltd. does not accept any liability or damages arising from the use of any valve information within this website. All trademarks and registered trademarks are owned by their respective companies.
For almost 15 years, ValvSource Equipment has continually committed itself to offer the best stainless steel silent check valve products to meet a wide range of applications and requirements.
As an industry leader, ValvSource Equipment has your perfect stainless steel silent check valves solution. Our success in the valves industry is attributed to our customer-centric team of sales personnel, engineers, and trained staff that are collectively committed to providing quality products at a price you would come to expect.
To find your perfect valve solution, please call ValvSource Equipment today or email us at [email protected].